Share
Keepsake Rope Baskets
Regular price
$21.99 USD
Sale price
$23.99 USD
Unit price
per
Sale
Sold out
KEEPSAKE rope baskets are the perfect play basket.
Made with quality hand crafted rope, machine stitched to provide extra strength and sturdiness. These are beautifully handmade by fair trade employees in Asia. Our company loves supporting families across the globe as we bring in products from around the world and USA!
These are the perfect take-a-long basket to hold your child's special toys, or keepsakes!  KEEPSAKE rope baskets are designed with the child in mind, keeping our sturdy rope while maintaining a lightweight feel, the vegan leather handle making easy clean up (a simple wipe down will do!).  Watch imagination unfold while your child brings their KEEPSAKE rope basket with them, Nature walks collecting leaves, to the apple orchard, it's a shopping bag, a purse, take to grandma's and in the car! Store their toys on their shelf while maintaining easy access for them to bring down. 
KEEPSAKE rope basket is the perfect holiday accessory, from Easter, Halloween, Christmas. 
M+L Essentials
8.5" Diameter
6.5" Depth
11.5" Total Length Handle-Bottom
100% Cotton
Vegan Leather Tag
Ethically Made
 Warning: Adult supervision is required at all times. Intended for children ages 3+. Many of our products contain small parts and should not be used by children under the age of 3. By purchasing our products you are assuming all risks associated with use. Please read our full liability disclosures here. In the event that a product should break, please discontinue use immediately.  Maple and Lark is not responsible for any misuse of products.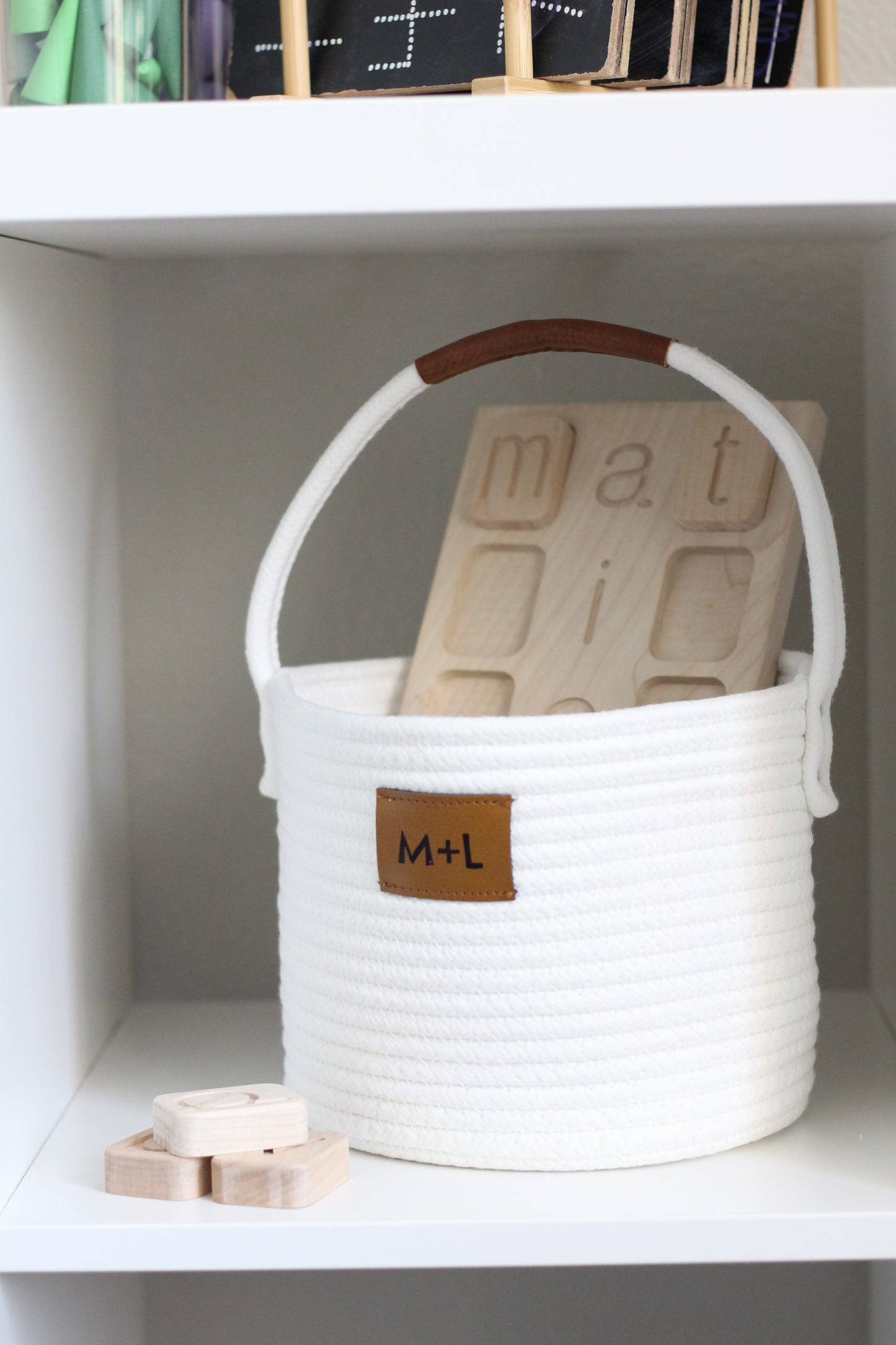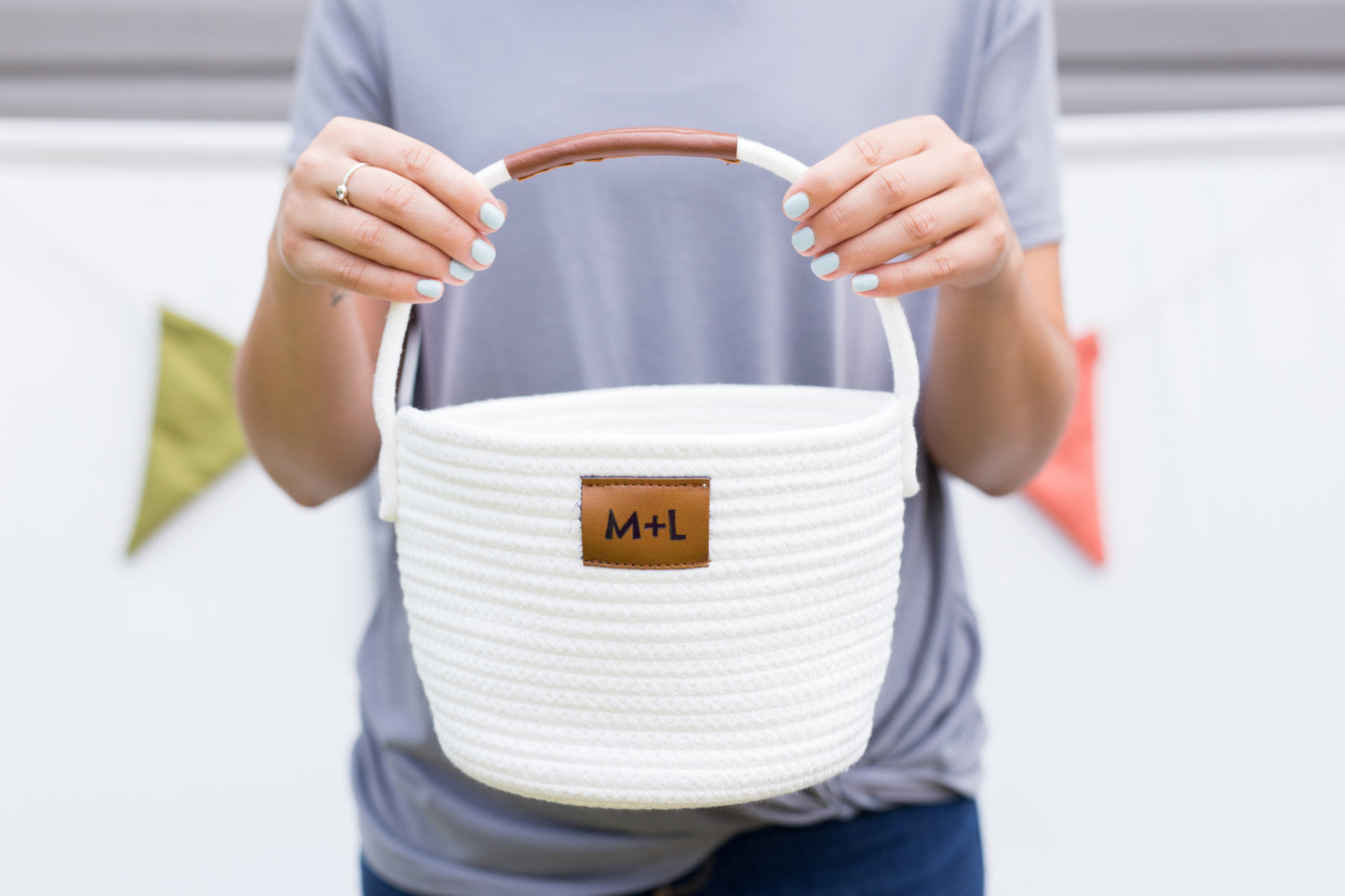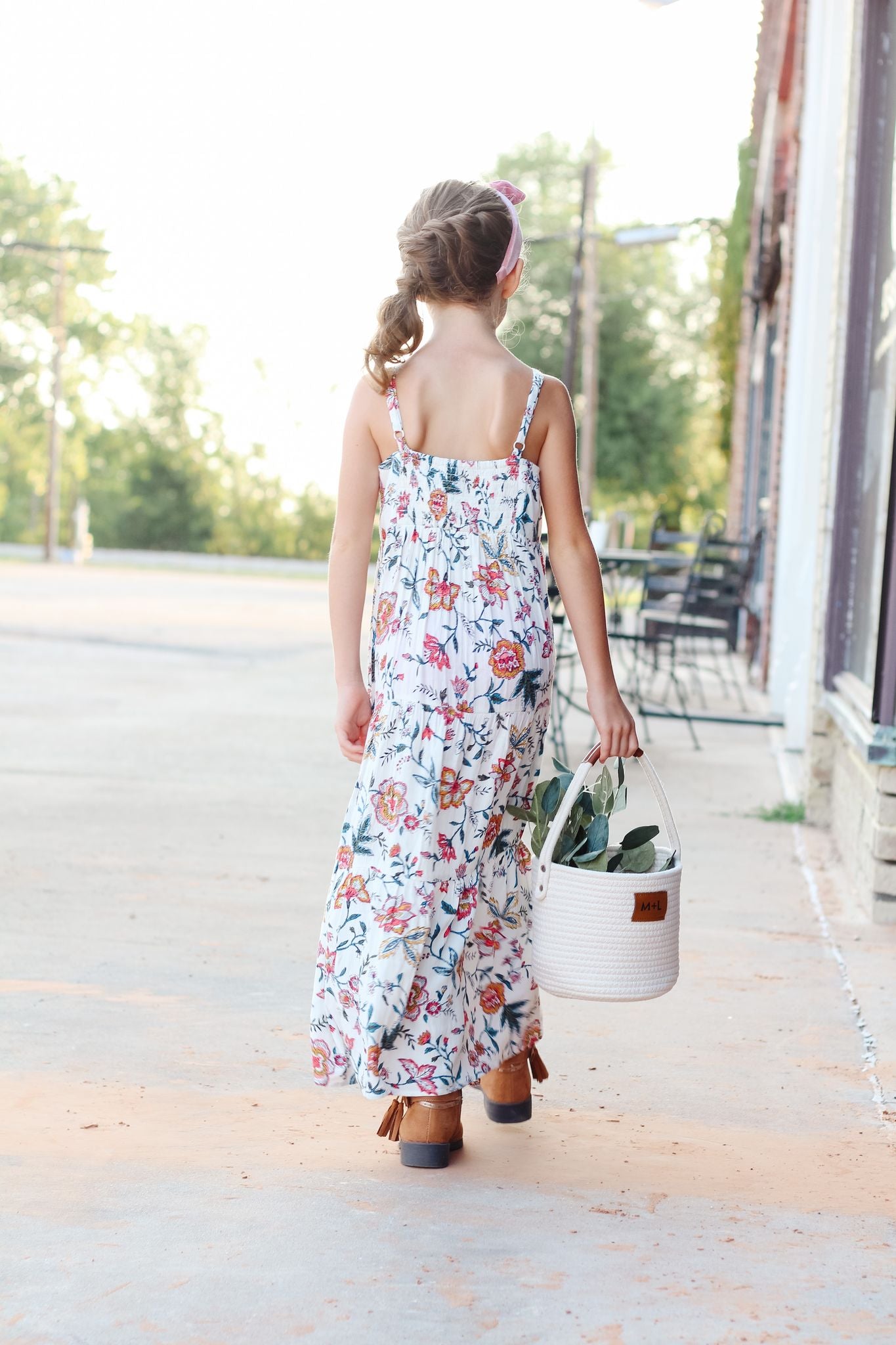 My little ones favorite basket
I love all the baskets, but my 2 year old especially adores this one! He uses it for collecting toys and taking stuff everywhere we go. I also love these for Easter and even use them as our Halloween "buckets"!
Perfect for kids
We've used these for Easter & Halloween, not to mention everyday for the many little toys they're playing with. It helps my daughter keep organized, allowing her to pickup and move her toys at once. The colors are beautiful too!
Love the keepsake rope basket
My littles love the keepsake they use it to carry whatever their toy of the day is to and from each room and to the car it's easy for them to hold and carry several little toys they insist they need and is better than them giving to me with my already full hands
The best for odds and ends!
My daughter loves these baskets because they are so easy to carry and they hold a lot of toys! They are perfect for collecting all the little things after playing that need to be put away. I'm going to be using the ones we have for Easter baskets. They are flexible and soft but sturdy!
Perfect basket for the kiddos!
I bought two of these for my kiddos. I used them for every holiday to out their goodies in. It is tall enough to put books, but small enough where things don't get lost. The kids love the handles so they can take it all around the house. We absolutely love these!