Share
Bliss Bundle | October Delivery
Regular price
Sale price
$47.00 USD
Unit price
per
Sale
Sold out
* LIMITED PRESALE FOR OCTOBER 10TH DELIVERY. Please note your items won't ship until 10/10 even if you purchase other items, they will be held until Bliss comes into the warehouse and ships out 10/10. 10/10 is a an approximate ship date, it may ship sooner or slightly later, but we will keep you updated. Orders cannot be cancelled after 24hours after ordering*


Are you looking for a way  to keep everything neat and tidy, yet easy enough a child could organize? Our Bliss Bundle includes 4 Medium Bliss Bins and 1 Bliss Basket specifically made for your Bliss Bins! Bundle and Save!
Bliss is made with reinforced zippers, BPA Free and our M+L quality you love. Don't forget to checkout our Bliss Bins and Bliss Baskets. 
When we say the options are endless for these bins, they truly are. From Craft Supplies, Board Games, Office and Paper Storage, Medicine Cabinet Organization, Homeschool Supplies, Bathroom Products, Sensory Bin on the Go, and so much more. These are your new organizational BFF.
We are bringing BLISSful organization to your home. 
4 Medium Bliss Bins
1 Bliss Basket (select your color bundle below)
Medium Bliss Bin 7.87" x 9.84" x 2"
Bliss Basket 12x10x8x
Made with medical grade plastic
BPA/phthalates Free
It is a harder safer plastic which is better than big box brands plastics, however may show natural scuffs marks.
meets California Act 65 standards



Warning: Not a childrens toy. Many of our products contain small parts and should not be used by children under the age of 3. By purchasing our products you are assuming all risks associated with use. Please read our full liability disclosures here. In the event that a product should break, please discontinue use immediately.  Maple and Lark is not responsible for any misuse of products.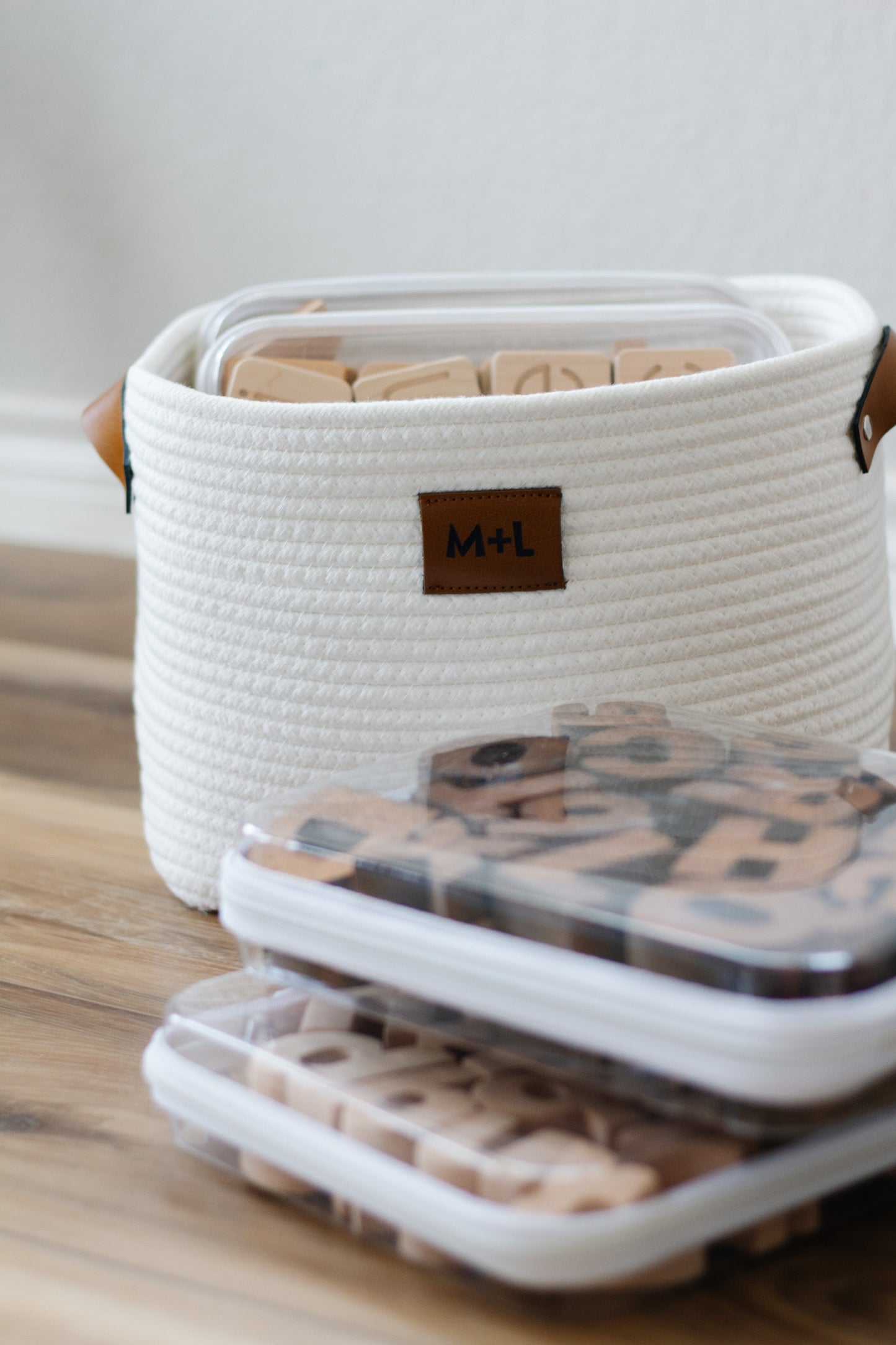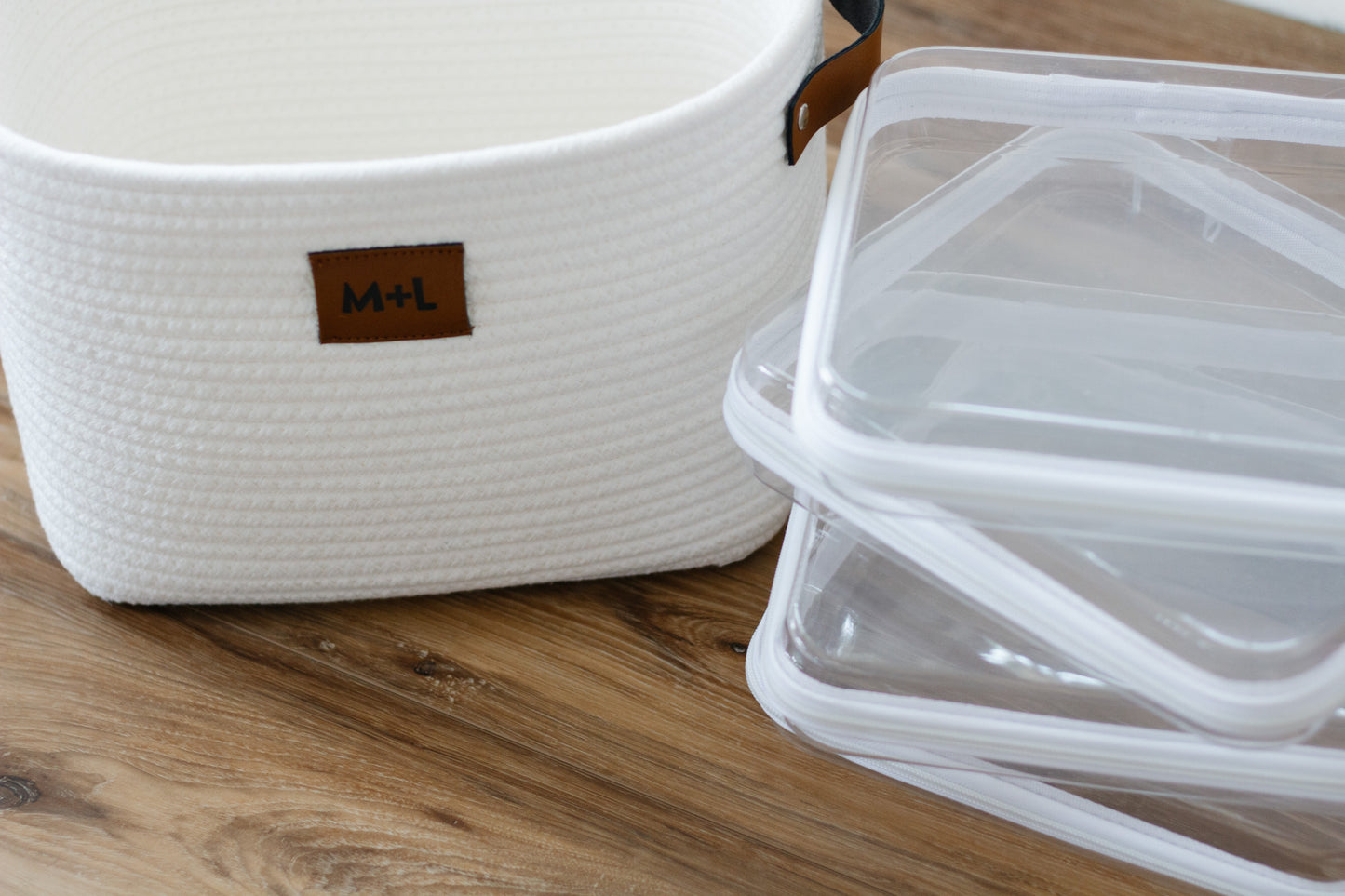 Makes it easy to see where you stored things
Love this bundle! The bliss bins fit in this basket perfectly and look so good too! I love that you can easily spot where you stored things without having to open anything up! Can't wait to get my September preorder 😍👏🏼
The very best!!!!
I love this bundle with the baskets!! They fit perfectly and keep everything nice and tidy. But man, the bliss bins themselves have endless uses! I keep finding more reasons I want to order them!
Amazing Product!
These bins are so useful for organizing ALL the things! Our craft pantry has never looked so neat and they were perfect for separating things on our beach trip and keeping them dry and sand free! So many uses I can't get enough!!!
Best organization bundle
I'm in love with Bliss! This basket and bundle has helped me organize my kids playroom and our preschool supplies. Ordering more and more!!!